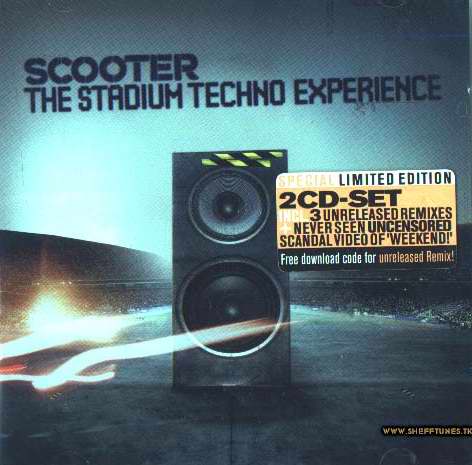 It is rebirth of my reviews. Today I received Limited edition of TSTE from Germany & will describe it here. If you don't know - I wrote review 2 times: during first listening & after 2 months. I've rate tracks (5-very best, 4-good, 3-middle, 2-shit, 1-real shit). All written may don't coincide with your opinion. Sorry for bad english :-) Yellow color - my impression from album after 2 months of listening.
1. Ignition
Very short intro. :-) 5-
2. Maria (I Like It Loud)
I know this song since Scooter concert in Moscow, when they performed it first time. It have georgeous energy & created for rock the stadiums! Potential single. 5
& it bacame 3rd single from the album. When listen to it on album Dick Rules is missing :)
3. Weekend!
All we know & already rate this song :-). "TLS"-style. 5
4. Take A Break
This song melody remind me about old old times. We are on the knght tournament. H.P. rides on the horse with sheild & pike. Jay & Rick are in the crowd. They play music that rocks the place. So strange things on my mind :) Like a video storyplay. 5
& if compare it with previous songs it sounds in style like "Don't Gimme The Funk".
5. Pulstar
This thing bring us back to 80s. Popular song that time. According to booklet original song was by Vangelis. 4
6. The Night
The second attempt of Jay Frog to make 80's-song from Valerie Dore into new modern dance style. And it is very successful. I don't heard first try (Planet Trax remix), but together with Scooter song became great! It composed like "Weekend" & will be released as next single, but seems to be a different song in radio version. 5+
& it became as I said. Single version more better. If compare it with album version - last one sounds like unfinished draft. Additional part before last chorus in single verison (about friends) is amazing!
7. Roll Baby Roll
Very nice song! Featuring pianos (by Rick?). I love piano inserts since 90s, so I like this song very much. Potential single. 5
8. Level One
Basses at the beginning of track sounds like Cosmic Gate. But then we hearing quality instrumental track in which trance mixed with hard-bass. 5
Very nice relaxing instrumental track!
9. Like Hypa Said
Relaxing song. Vocal by Nikk with normal speed :) Also potential single. 5+
10. Liquid Is Liquid
Agressive-possitive track :) Club track which used some famous phrases in it. 4+
11. A Little Bit Too Fast
More club track than previous. I don't like it so much at first listening. May be on following I like it... 3
12. Soul Train
Typical last album 12th track as always. Sad dance theme without words. 5+
Super! I haven't nothing more to say... Super!
Summary: After several compilation Scooter released new album. It recorded in constant style during whole album & listening at one breathing. Sadly that it haven't ballades again. But they will be break styleline of album. Total rate is 4.75. 3/4 of album (9 tracks) received 5, 1 track got 3 & 2 ones rated 4. It is higher rate than previous albums! Even more - first rate is higher than any second rates of previously reviewed albums!
Second rate of album is 4.79! So... We are wait for brand new single & album now!
---
Special Limited edition (CD2)
1. Weekend (N-Trance mix)
Beatiful remix from greatest brittish team. Not the first for Scooter. It remind they own single "Forever" which was released last year. One of the most fine remixes on Scooter. 5+
2. Nessaja (Flip'n'Fill mix)
UK-remix in usual Flip & Fill style. Typical UK-trance. 5
3. The Logical Song (Clubstar UK remix)
Amazing remix from most successful Scooter single in UK. Now it was released on 2CD for german posse. From one of the main UK-remixers. 5+++
4. Weekend (X-Rated verson)
This video was N1 during many weeks on Muz-TV 10 Sexy chart (Russia). This said about it all :) Most uncensored variant of video.
5. Special Pictures
Making of Video "Weekend" - as on single.
Press - 5 picters from photo-session.
(ñ)1999-2003 Denis ZHabkin aka DJ Hooligan
You cannot use information or pictures from this site without my permission
Âû íå ìîæåòå èñïîëüçîâàòü èíôîðìàöèþ è êàðòèíêè ñ ñàéòà áåç ìîåãî ðàçðåøåíèÿ