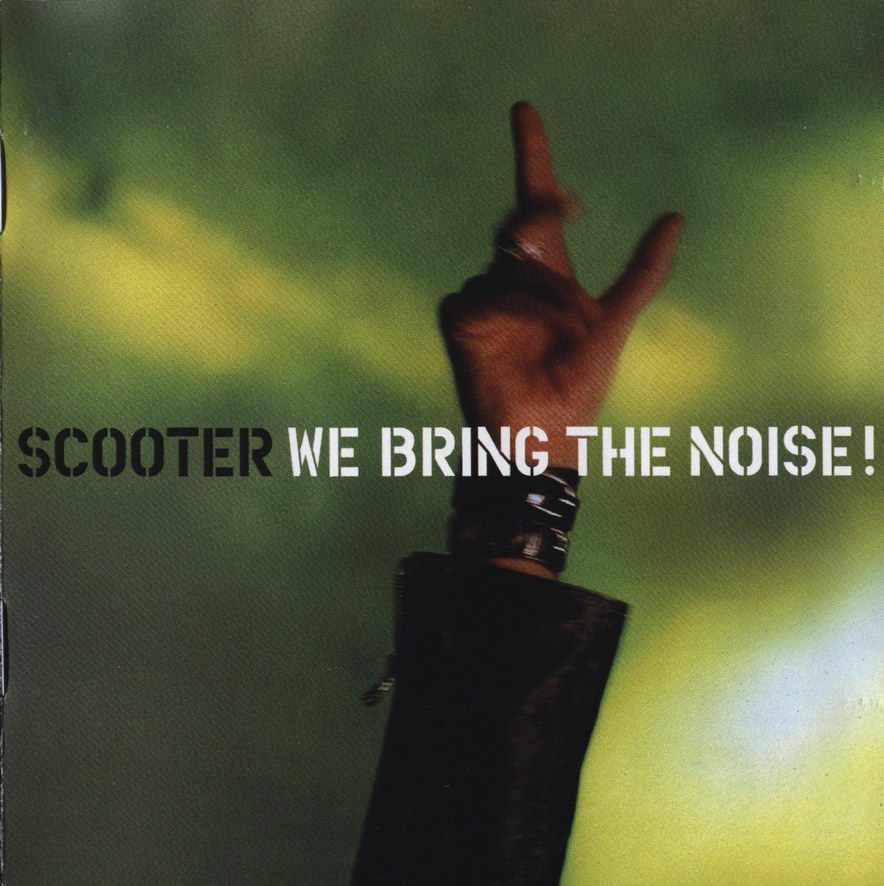 As usual I am one of the first who publish review of album in Internet. But some lately now. If you don't know - I wrote review 2 times: during first listening & after 2 months. I marked tracks (5-very best, 4-good, 3-middle, 2-shit, 1-real shit). All written may don't coincide with your opinion. Sorry for bad english :-) Yellow color - my impression from album after 2 months of listenung.
1.Habibi Halua
Intro became more conceptual from album to album. Now it like churich songs. 3 5-
Hmm.... Very nice! Especially last seconds.
2.Posse(I Need You On The Floor)
1st single. All you heard it, and I think, that it is best, that done by Scooter since HMITFish? Expensive video could give Scooter higher chart positions. But in another way, "Posse"'s video according to lyrics must be like Live In Denmark version 5+++++ (never rate by this mark : ))
3.Acid Bomb
Techno drums begin to beat ;-) After this some jungle. And 2 voices. First - bass, like Brooklyn Bounce, second - female. Dance club track. Chorus very similar with Sash! "Encore Une Fois", but more bass-dancing. 4-
Very powerfull song. It makes you wanna dance. Only listening is not available I'm think. There is not main theme in this song - only for dance.
4.We Bring The Noise!
H.P. sing again! Potencial single. Nice music: burning dance rhythm with guitars. Composition of song like in "We Take You Higher". 5
5.R U Happy?(>>> Smiley :))
Club dance track with pauses. Computer voice (It from U96 "Das Boot"!) asks you: "Are...You...Happy?". I am aswered, that Yes, because it is happiness to hear newest Scooter album :))) 4
Interesting instrumental track...
6.So What'cha Want
H.P. tells, that he biggest MC. We knew it :) Besides beats & main theme there is melody pleased by me in track. 4 5+
Wowww!!! I never heard something like this! Scooter never done same songs. Something like Jason Nevins remixes for Run DMC & Cypress Hill or last work of Busstop. Track is very COOL! Mixed rap, Drum & Bass & unknown other! But I like it after several days of listening.
7.Burn The House
But I don't advise you to burn your house :)) But this track is very burning! Another brake-beat from Scooter. I don't know why, but I like this style. Music Instructor, "We Are The Greatest", "Greatest Beats". But here added TRANCE. As everybody knows, trance is favourite style of DJ Hooligan, who wrote this article :-) I very pleased how Scooter combined 2 different styles 5
8.Chinese Whispers
Techno boom-boom lasts 2 minutes, after that appear chinese progressive music, but after some time it transforming to Scooter's techno-rhythmes again. 4- 3
I don't understand this song. May be never understand...
9.I Shot The DJ
I thought for a long time: to listen or not to listen this song... Why if he really kills me ;-) Track is piano-burning. Hm... I heared it some time ago. Oh! It is like "Posse". According to title - potential single. Scooter love to shock (you remember second singles from last albums: "Fuck The Millenium" & "She's The Sun"). 5- 5
Differs from single version - have many progressive features. I.e. nonordinary cool effects during non-chorus, but in single they doesn't exist - only standart song before chorus :-(
10.Transcedental
Long instrumental track with nice melody. As I like! If it haven't been dancing, it will be second "Sputnik" - melody so beatifull too!!! 5+
11.Remedy
Oh, agian this scary bass voice! I afraid it ;-) But possible, that it is voice of H.P. with decreased tempo. Nothing special in track. Standart dance track. 4-
Yes - it is voice of H.P. - listen decreased tempo sample from my mage (MP3 section). But track is really standart, nothing to add.
12.Devil Drums
Typical last album, track. Sad theme without words, But dancing rhythm. 5+
I'm think that Scooter write this track under impresiion of SafriDuo's world hit "Played-A-Live". But it's sounds great. Main basis of this song isn't drums like in SafriDuo.
Totally: Most cluber album that "No Time To Chill". No any ballads. Only 3 tracks with full lyrics. Total rate: 4.375. Half of album (6 tracks) marked with 5, 1 track with 3. This album worser than "Sheffield" mainly because it has loss of ballads & slow tracks.
Album isn't so multistylistc like "Sheffield". But there is new features on it. Different styles also present, but album listening on one breathe, because it lasts with approximately same BPM. Total rate after 2 months - 4.625
---
Former East Germany Limited edition
13.Am Fenster
It is sad, that Scooter don't include this tracks in album. But there are many reasons for this: "Am Fenster" don't accept to conception of album. Firstly it is more pop- than techno-track, secondly - it is cover of City "Am Fenster", thirdly - it is on german language! Music is superble: trance, dance, strings. Sad song, but danceable :-) Like "No Fate". 5
---
Limited edition
13.Posse (video)
Video includes Live in Denmark cut scenes & HomeVideo-like scenes, in which showed resting, at minivan, at backstage, you can see H.P's dog. Video is non-commercial - for fans. 4
14.Posse (Live in Denmark video)
Live performance in Denmark. Energetic action on the stage. 5